Saturday, June 30, 2001



Halloween is coming!!!

http://markbutler.8m.com/monsterlist.htm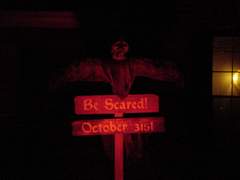 Halloween is coming!!!! I haven't prepared anything this year so far... I got a compressor from a deal at Sears the other day so I think I'm about to get nuts and build some air props... gotta go gotta go gotta go!!!!

Speaking of Halloween as you all know I go nuts in decorating my yard, but this year I'm not sure. We have a home owners association forming in July here and I'm not to sure what they are gonna think about my decor. I guess I'll find out out next month...

Looks like Lee's Party is a rain out today...I hope this stuff clears before the 4th of July!

Well Greg has been thinking of going to Numbers lately so I thought I'd brush up on my dance moves.

I got a cool note from J. the other day about a new thing in the HU community, AUX over IP... if you don't know what the hell I'm talking about don't go here.




Today I start my blog!

I have been thinking of doing this for some time now. I had a couple of free hours this morning so there you go... I made a quick one.

I heard the news yesterday that Big Greg got layed off for the second time this year... anyone know of any work out there for him? his email is garnold@i-sys.com

Yesterday Angie stayed home from work to hang out with Dade and me. We went to the Wave pool at Eagle Pointe. Jaime and his kids were there and we got to play for about 2 hours before the weather got us. On the way out of the pool I ran in to my Ex's dad and her brother! Whoa man last time I saw Frankie he was about 12 now he's grown and has a 6 year old... I guess time does not stand still. Anyway after about an hour of waiting around they let us in only to have a big 'ol thunder clap happen right away and poof that daya was done.

I came home and mowed the grass then we went to dinner with my parents at Baytown Seafood... very good! Coming home we stoped at Blockbuster and saw Paula... we chated for a bit, found out Robbie had the engine out of his car, and I realized how bad I am at not stayng in touch with people... I'm gonna have to work on that.

Anyway I bought Unbreakable and Stripes(OH YEA!) on DVD at Target and we watched Unbreakable last night... pretty good flick...

Oh yea and the Astros lost so I went to bed pissed...

signing off for now... Sam