Wednesday, February 27, 2008



OMG I almost choked at the 5:51 mark... this is crazy!!! Jimmy Kimmel is Fracking crazy!





Tuesday, February 26, 2008




Star Wars according to a 3 year old! Awesome!
comments(1) : + add +
.:: Kim
That was too cute!!!!!


Monday, February 25, 2008




What it's like to be one of us!



Tuesday, February 19, 2008



http://www.geocities.com/stopdarthweinstein/
Damn it!!!! Fanboys is getting the cancer angle cut from the movie!!! Those idiots! Go here to support the original version.




Sunday, February 17, 2008



Looking for some help... as most of you know by now I am doing the Relay For Life with my Garrison. If you can take 3 minutes to print this out and post it in your break room or on your bulletin board. thank you!!!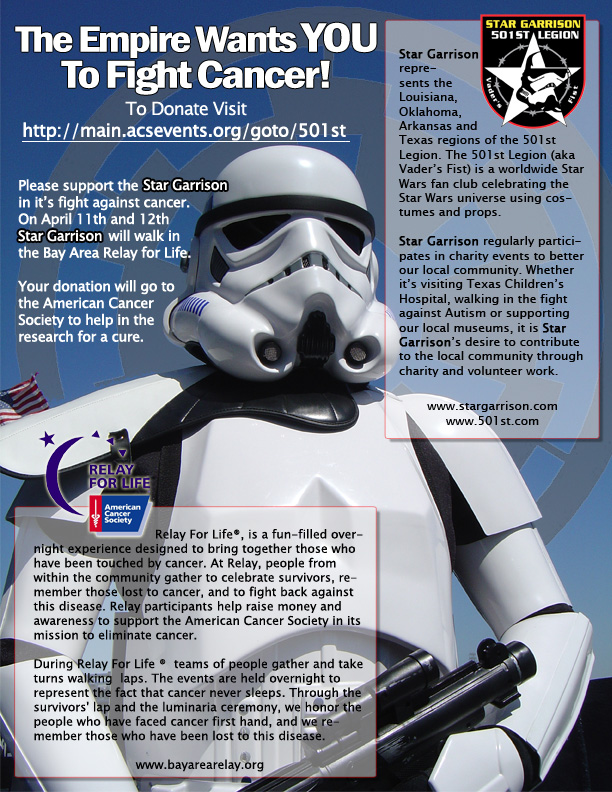 Hi Res Print version here... Print Version SG - ACS Poster

thank you all and congrats on the good karma you just brought your way!

i.am.TK-1247SL.STX Squad




Monday, February 11, 2008



http://antwrp.gsfc.nasa.gov/apod/image/0802/atlantis_sts122.jpg
Atlantis... nothing short of breathtaking!



:: 2/11/2008 11:04:53 AM
http://www.votechooser.com/
From my Dad.... Vote Chooser ... matches you up to the candidates in 10 questions.




Tuesday, February 05, 2008



http://gizmodo.com/352245/using-hundreds-of-lego-star-wars-mini spaceships-to-create-huge-battles
Using Hundreds of LEGO Star Wars Mini-Spaceships to Create Huge Battles




Sunday, February 03, 2008



http://abcnews.go.com/Video/playerIndex?id=4236252&affil=wftv
New info on Natlie Holloway... this is pretty damning.




Saturday, February 02, 2008



http://viveknarain.wordpress.com/2008/02/01/super-bowl-xlii-%e2%80%93-the-star-wars-version/
Super Bowl XLII – The Star Wars Version




Friday, February 01, 2008



http://gizmodo.com/351475/steampunk-lego-jabba-barge-slave-i-and-other-amazing-steam-wars-models
Steampunk LEGO Jabba Barge, Slave I and Other Amazing Steam Wars Models



:: 2/1/2008 10:19:24 AM
http://www.mocpages.com/home.php/2345
SW Lego Dioramas